Creative Mirror Wedding Day Ideas
Everyone has heard the classic "Mirror Mirror on the Wall, Who Is the Fairest of Them All" but perhaps it is not only about the 'who' instead the how when and where. The use of mirrors in weddings are on the rise. It is no wonder when you think about the many ways mirrors can be used. This post will showcase creative ideas on how you could use mirrors on your wedding day.
A mirror carries an assortment of meaning and symbolism. Reflection obviously comes up a lot. That said your wedding day is a time to reflect on the relationship, remembering all the moments shared and looking forward to many more.
The writing is on the mirror. Use graphic pens, markers, lipstick or even have your message printed onto mirrors. Below are some visual ideas of mirrors which feature written messages.
Mirrors are an elegant way to display the wedding menu in a fun style your guests will remember. Menus can be a bit long so you might want to get these printed on the mirrors rather than hand write them. You can take it a step further and find creative frames. Don't be shy when picking a mirror. Oddly shaped mirrors add to the uniqueness of your wedding.
Seating plans that don't suck. Make use of a large mirror to display the seating arrangements. You could write on the menu itself with a graphic pen, print each table plan on paper or even have the table plans printed on transparent paper to make more use of the mirror. Either way mirrored seating plans are a creative solution and an easy to do DIY project.
Everyone enjoys a good quote or message. Be creative and use a mirror in literally any spot. A few mirrors on a wall or a large mirror leaning against a wall will liven up the space. The written message adds a personal touch and gives the guests something to talk about.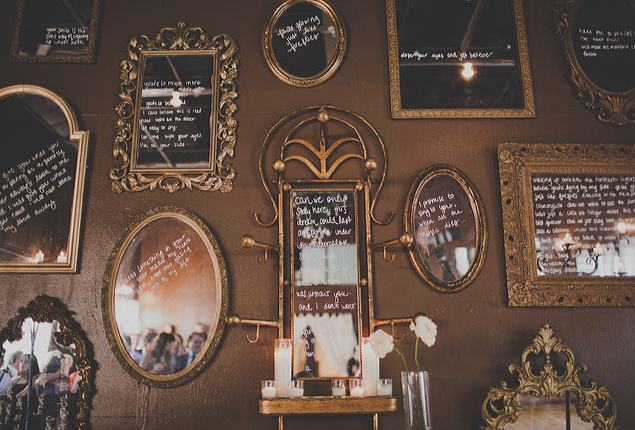 Mirrors as wedding favours? Wedding favours should be something useful that your guests will be able to continue to use and love long after your wedding. Perhaps a compact mirror for your female guests or a hand mirror. Interesting fact, did you know the hand mirror symbolizes the goddess Venus. It is said the Venus sign (♀) represents a hand mirror.
Mirror can actually be cut in any shape and size. Have words like "love", "happiness" etc cut in glass to hang or be placed as decor. Depending on size and cost it could also make for a pretty amazing favour.
How to make the most of the mirrors reflection for your wedding. Mirrors can be used as a surface for displaying center pieces or even as a waiters tray. Get a couple framed mirrors and place your flowers on top of them. As it gets darker the lights from the candles will reflect from the mirrors adding to the look and provide extra light.
Mirrors are easy to get creative with, relatively cost effective and stylish. Come up with creative ideas for how you could use mirrors for your wedding day. Try to think outside of the box as mirrors add a totally new dimension to what would normally be pretty flat photos.
Feel like we have left anything out? Do you have ideas you want to add. Comment below.
Watch Fifty Shades Darker (2017) Full Movie Online Streaming Online and Download